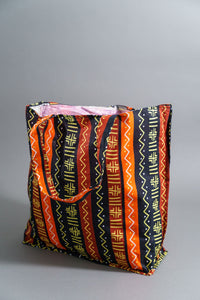 A Handbag with a zipper pocket inside  allows you to store small items when you go away for the weekend, do your shopping if grocery, travel , beach etc.. 
made out of WAX fabric lined with a recycled polypropylene rice bag .
What is the WAX
Ankara commonly known as Ankara prints -African wax prints -Holland wax and Dutch wax is a 100% cotton fabric with vibrant patterns. It is usually a colorful cloth and is primarily associated with Africa because of its tribal-like patterns and motifs.